I have always been a storyteller. That is what I love about the process of video production. My name is Michael Johnson and I began my career as an electronics technician in the U.S. Navy. My two brothers followed my example of serving the country. The three of us are pictured in our uniforms.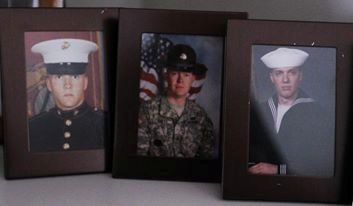 After the Navy I pursued my career as an electronics technician, working my way up to the position of broadcast engineer for F & F Productions. While there I participated on the technical level in the production of both live to TV and live-to-tape shows on subjects ranging from major sports events to comedy series. However, I longed for the opportunity to be on the creative side of these productions.
I took a major step in making this dream come true when I returned to school on the GI bill. I majored in video production and was the executive producer for the senior class project at St. Petersburg College. The film, entitled "Tony Janus, American Aviator," received a nomination for an Emmy.
After graduation I soon found my way into news broadcasting, where I quickly learned to operate on a tight deadline. After four years of employment in this field, I moved to NYC so that I could participate in the nation's #1 job market for the news industry. In NYC I have enjoyed the opportunity to work on national shows with celebrities, intellectuals, and well-known TV personalities.
Currently I am building up my own business. I have worked on several productions which are featured on this website. I would like to have an opportunity to be your storyteller, and help turn your dream into reality.